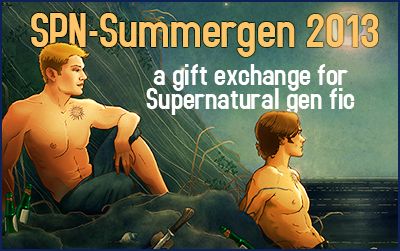 I just signed up for this, (not just because I really want to write a non-gen story to go with the banner image which is uh, very inspiring,ahem). I've heard it's a fun gift exchange to participate in, and hey stories only have to be 1,000 words so you should sign up too!
I thought I'd have trouble coming up with enough gen prompts, but nope! 4 out of the 6 were even non-Sam and Dean focused. I was a little surprised with myself.
Can't wait to see which one my author picks, they were kind of all over the place. We're supposed to do a Dear Writer to give more clues about what we like in a story. So here goes.
Dear Writer,
Hi, I usually read wincest, but when I do read Gen, I most enjoy a still completely co-dependent, wrapped-up-in-each-other relationship between Sam and Dean. Especially one where they are comfortable with it even when others point it out as being strange. In a gen story I think I like that intensity most especially when it serves them well in a hunt, their extra closeness leading to them being able to anticipate the other without hesitating.
I do like a lot of the side characters which is why several of my prompts include them, but mostly I just love reading about Sam and Dean. Outsider or side character POV on Sam and Dean is like fudge sauce on ice cream, yum. I really enjoy episode codas or missing scenes, as well as au's that take off from a critical decision point. I'm always what-if-ing myself, so I do like reading other's ideas about where the story might have (should have!) gone.
Thanks for writing for me, I'm really excited to see which prompt you choose and what you do with it!
Cheers,
smalltrolven